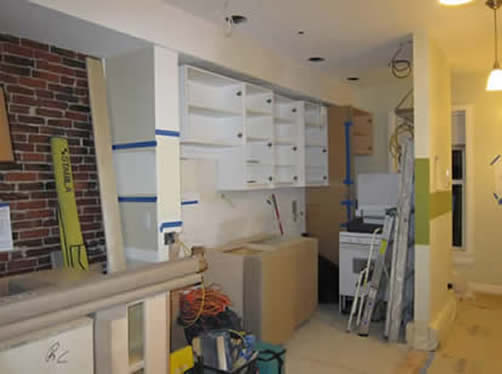 From Conception to Completion
Coordinating any kitchen or bath project takes time and lots of planning, espcially when remodeling. We hire and recommend only the best people we know because it pays off in time spent, crises averted, and the feeling of a good job well done.
The choices of cabinet construction, doorstyle, countertop and tile selections, storage options, equipment specifications and hardware become much easier when you work with someone who has experience and shares your vision. Doing it yourself is an option, but it can be a test of your knowledge, communication ability, management skills, and your sense of humor.
After you've looked at websites, watched renovation TV, read magazines, gone to home shows, and talked to friends and family, it's still a bit daunting to start tearing things apart. It's our pleasure to work along side you to bring months or years of planning into focus and balance your wants and needs with your budget.
We can help you put it all together in a beautiful and buildable package starting with laying out the space, working through the plumbing, electrical, and especially lighting systems, and integrating all the styling and materials choices. Once the sketches and drawings and samples are approved there is the matter of accurate ordering and coordinating delivery to the contractors and craftsmen who will be working with them.
The time of most stress on any renovation or building project is when the work is being done. Unlike on TV, projects don't always run like clockwork. We also offer project supervision services so you can be sure that all your property is protected, dust is controlled, and all the details are properly executed.
A successful renovation is one that makes your life better. Our job is to make sure that happens.